What are thin-film optical filters?
bri6k_admin
Thin-film optical filters are made by depositing alternating thin layers of materials with special optical properties onto a substrate, such as optical-grade glass. As light makes its way through the optical filter, its direction changes as it passes from one layer to the next, resulting in internal interference. This is due to the differences between the refractive indices of the materials in the dielectric thin-film coating. The configuration of the layers results in an optical filter that manipulates different wavelengths of light in different ways. Depending on the wavelength and type of optical filter, light can be reflected off of the filter, transmitted through it, or absorbed by it.
Optical filters can be designed to transmit, block, or reflect light at any wavelength range from the UV to the IR. They are generally classified into five basic categories based on their spectral shape: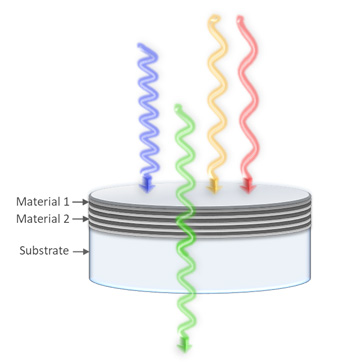 1. Bandpass filters transmit a range of wavelengths while blocking the adjacent light on either side.
Bandpass, notch, and edge filters are generally designed to work at 0° or other small angles of incidence (AOI). Dichroic filters, on the other hand, are meant to be used at 45° or other large AOI and can be designed in bandpass, notch, or edge configurations.
Optical filters can also be designed in multiband configurations. Multiband filters are bandpass filters with more than one passband, or region of high transmission. Multi-notch filters have more than one blocking region and transmit all adjacent light. Polychroic filters are dichroic filters that have multiple bands or notches.
Although most optical filters fall into the above categories, custom filters can be designed with any spectral shape imaginable. For example, when transmitted through a specifically designed custom filter, light from a xenon lamp can be transformed to mimic the spectrum of the sun. Other custom filters are designed to match arbitrary spectral shapes.
Because of their versatility, optical filters are used in a multitude of applications. Fluorescence microscopy, astronomy, solar imaging, remote sensing, Raman spectroscopy, and telecommunications are just a few disciplines that rely on optical filters as a key component of their systems.